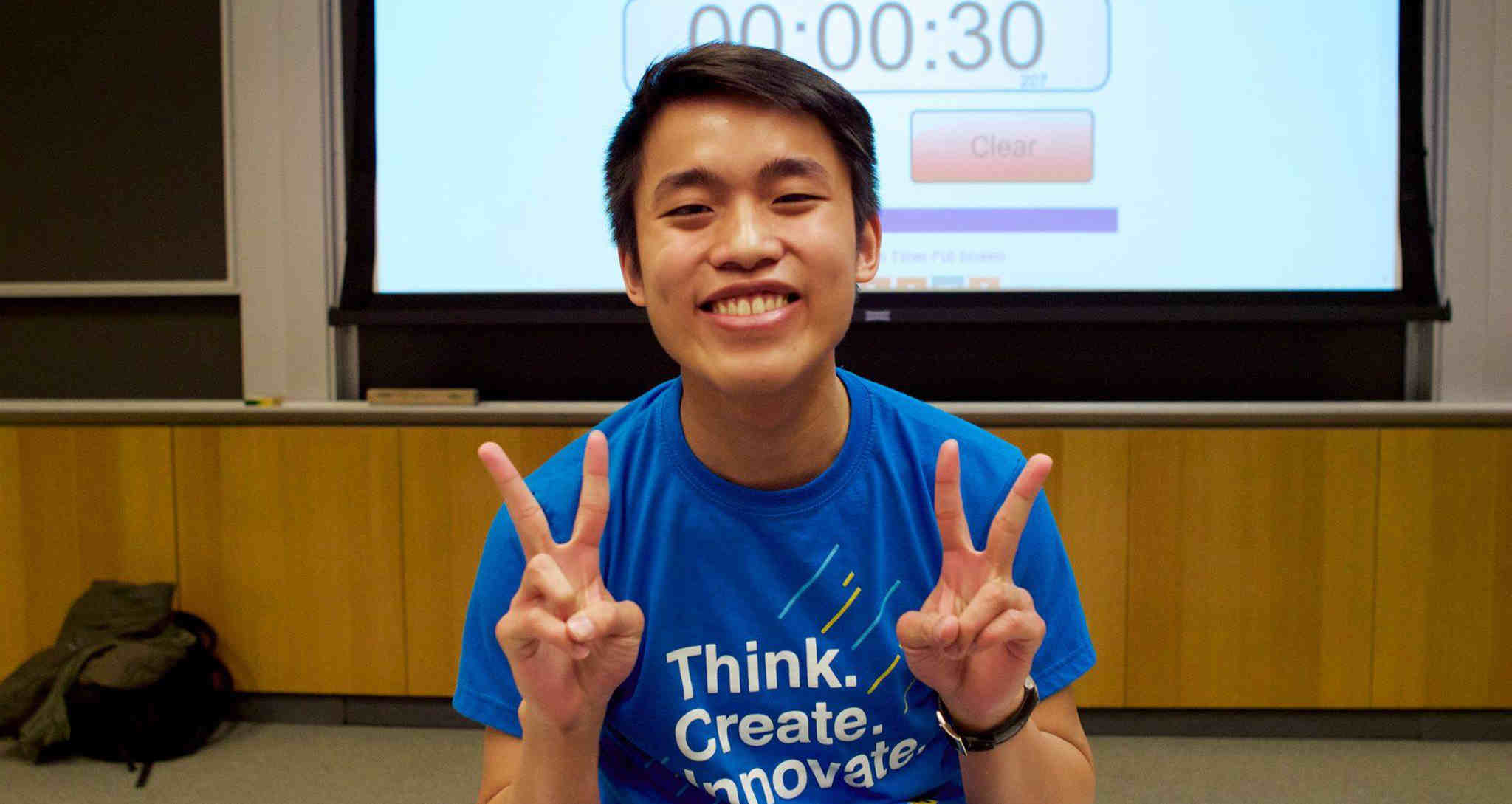 Fostering Entrepreneurship at Penn - David Ongchoco
The path to becoming a successful entrepreneur is a difficult, self-selecting process. There is an endless amount of defeat and refactoring, planning and failed execution that discourages students from ever following their entrepreneurial goals. What students tend to assume is that they have to do it alone. Instead, David Ongchoco created YouthHack, an organization that allows young, aspiring entrepreneurs to foster their ideas in a collaborative environment.
David Ongchoco is currently a junior studying Cognitive Science and Computer Science at the University of Pennsylvania. He founded YouthHack during the summer before college with the intent of creating an organization that encourages high school and college students to collaborate and pursue their entrepreneurial interests. Within three years, YouthHack has expanded its reach globally by hosting chapters in Singapore and South Korea. We asked David about what led him to start YouthHack before even coming to college:
"During the summer before my freshman year at Penn, I was able to attend a talk by Salman Khan, the founder of Khan Academy. During the talk, Salman discussed the different ways we can use technology to solve problems. It was very inspiring to me, especially during the period of transition between high school and college. From his talk, I realized that with the right people, technology, and environment, anything is possible. Before I started college, I really wanted to create an environment for high school students in the Philippines to use their creative ideas to help solve problems. With the four months I had left, I tried and tested different avenues for creating this sort of entrepreneurial environment. YouthHack was one of these avenues."
Originally, YouthHack was intended to be a two-day event in the Philippines, where high school students could experience the prototyping process, learn to work with others, and even pitch to investors. By the end of the event, several students ended up working on their own startup or interning at existing ones. One group of high school seniors worked on developing a centralized college application, similar to the CommonApp, in order to address the growing need for an online college application in the Philippines. During David's freshman year at Penn, this group of students flew to Penn and Harvard to pitch their ideas to professors and at startup competitions. Wharton professor Ian Mcmillan was so impressed with the drive of the high school students that he encouraged David to start a YouthHack chapter in Philadelphia.
"This was when YouthHack turned from being a one time event to an organization."
Around 30 students attended the first YouthHack event in Philadelphia. Eager to spread the word, David started writing frequent blog posts about his vision for YouthHack along with its progress. Eventually, a high school student in Singapore came across one David's posts and asked about starting a YouthHack chapter in Singapore. "It was super exciting. I got a cold email from someone I had never even met asking to bring YouthHack to Singapore. I was like 'hell yeah', and started preparing for expansion." During his freshman summer at Penn, David flew to Singapore to work with this student to work on expanding YouthHack. The first event in Singapore was wildly successful - over 100 high school and college students met to pitch their ideas to venture capitalists, listen to the advice of successful Singaporean entrepreneurs, and even learn to code. That same summer, David also ran an event in Hong Kong, which met paralleled success.
Inspired by David's determination, we wanted to know what obstacles David faced during the conception of YouthHack, along with how he overcame these obstacles.
"I definitely encountered a lot of initial obstacles. During our first few events, we had under 10 people registered, which was very upsetting considering how much preparation we had put in. One day, I came across a picture on Facebook with around 30 high school kids who had attended a well known academic summer camp. Through Facebook Messenger, I reached out to these kids asking them to register to YouthHack, and share the info on their respective high school's Facebook page."
His strategy worked. Attendance at YouthHack meetings shot up from 10 to over 120 people. "It was at this time when I realized that if you want something bad enough and put enough effort into making something happen, the world has a really nice way of helping you. This realization was the driving force for the rest of the YouthHack expansion." When asked about his vision for the future of the organization, David responded,
"I think as of now, I really want YouthHack to remain student run and be sustainable by the time I graduate. At the end of the day, it's really about inspiring students to overcome their fears in order to pursue their own entrepreneurial interests. When considering whether they should chase after an idea, I want students to ask themselves, 'why not?' Honestly, my perception of YouthHack's future may change from day to day, but it's really just about inspiring students."
Keep in mind that when David is not managing the Hong Kong, Singapore, Philadelphia, and soon to be South Korea chapters of YouthHack, he is a full-time student at Penn pursuing two majors. Surprised by his commitments, we asked David how he balances YouthHack, academics, friends, and sleep.
"You know the feeling when you have to do something or nothing will happen? I think in the earlier days, especially around 2014 and 2015, I really had to push to make things happen. When you're the one who starts something, it's always on your mind. Whenever I have something to do for YouthHack, everything else comes second. It's hard to maintain a balance between everything, but you just have to continue making progress. One of my biggest goals now is to learn how to sustainably scale an organization."
Through David's determination, YouthHack has developed into a team of students passionate about providing support and encouragement to potential entrepreneurs. It's safe to say that David didn't let inexperience or failure prevent him from making his idea a reality.